March '23 DAR Star: Justin Burnley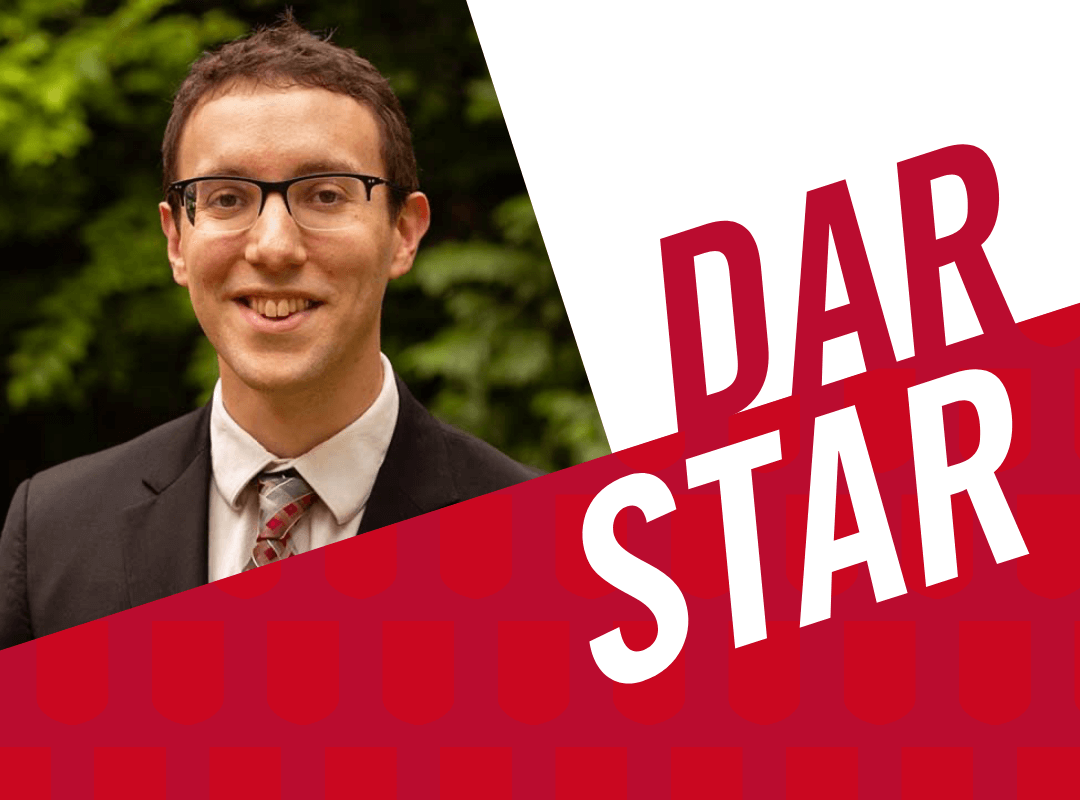 We work with absolutely incredible people—and we all have varied interests and experiences, which adds to the unique makeup of the University of Georgia. We'll be regularly spotlighting a few rock stars from around the division so that even if you don't cross paths with them in the break room or Zoom with them on a weekly basis, you can get to know colleagues who can enhance your work life and productivity.
Without further ado, please enjoy our Q&A with Justin Burnley …
Name: Justin Burnley
Title: Assistant Director of Career Exploration, Career Center
I help students who are exploring their major options and career decisions in 1-on-1 appointments and group workshops. Any student can start to explore at any time and may need to talk things out when feeling overwhelmed or stuck on the next step. I create methods and resources for enhancing their ability to know their options and make decisions, especially for 1st-year, 2nd-year, or new transfer students.
What might people not know about your job? I love a great quote; here are 3 relevant ones that impact how I choose to help students:

"You have to measure your successes and your failures within, not by anything that I or anyone else might think." – Capt. Jean-Luc Picard | Star Trek: The Next Generation
"Try to choose carefully… when the great choices must be made. When I was young, I had to choose between the life of being and the life of doing. And I leapt at the latter like a trout to a fly. But each deed you do, each act, binds you to itself and to its consequences and makes you act again and yet again. Then very seldom do you come upon a space, a time like this, between act and act, when you may stop and simply be. Or wonder who, after all, you are…That's why I like the sea." -The Farthest Shore | Ursula K. Le Guin
"Do not regret your choice in the valley of the Emyn Muil, nor call it a vain pursuit. You chose amid doubts the path that seemed right: the choice was just, and it has been rewarded. For so we have met in time, who otherwise might have met too late."-Gandalf, The Two Towers | J.R.R. Tolkien
Where can we find you?
Time in DAR: 3 Years (11 total at UGA)
Why do you love working here? I was a student at UGA. As a student, I did not take time to explore my options; I always chose what seemed most obvious. I feel fulfilled when I can help a student do even a slightly better job than I did when it comes to finding what they like and making informed decisions. Nearly every day at the Career Center, I get to help someone who was in my place years ago.
No. 1 tip for someone joining DAR: Update your LinkedIn!
What have you been most proud of working on? I enjoy many of our office-wide collaborations at the Career Center, but my proudest project is creating and distributing career development content in eLC to faculty partners. This resource gives faculty a convenient method for integrating career development content into their courses and introducing students to the Career Center. This effort has been recently expanded to support our Graduate/Professional and Pre-Health students with a self-enroll course.
Where did you grow up? Athens!
Tell us about your family… I have a wife, one daughter (with another on the way), and a dog
On a typical Saturday evening, you can find me… At home, for sure
Where do you like to grab lunch in Athens? I love a calzone from Mellow Mushroom or a Sunday Brunch burger from Blind Pig Tavern.
Outside of work, I'm passionate about… Parks, nature, and hikes
Favorite podcast? My favorite podcast is My Brother, My Brother & Me.
A song that really pumps me up is… I Love You for Psychological Reasons by They Might Be Giants
Something you might not know about me is… I love to sing and memorize/recite poems. Tolkien's Song of Beren and Luthien is a recent favorite.
My dream vacation (cost and time aside) would be to visit… New Zealand, Matamata
We hope you learned something new about Justin —we are lucky to have him on our DAR team! Feel free to reach out to him for all your Career Center-related questions.
https://www.dar.uga.edu/wp-content/uploads/JustinBurnley_1200x800px-2023-DarStar-V1.png
800
1080
Lily
https://dar.uga.edu/wp-content/uploads/UGADAR-logo-horizontal2.png
Lily
2023-03-06 09:08:54
2023-03-06 13:42:54
March '23 DAR Star: Justin Burnley