March '23 DAR Star: Katherine Skelly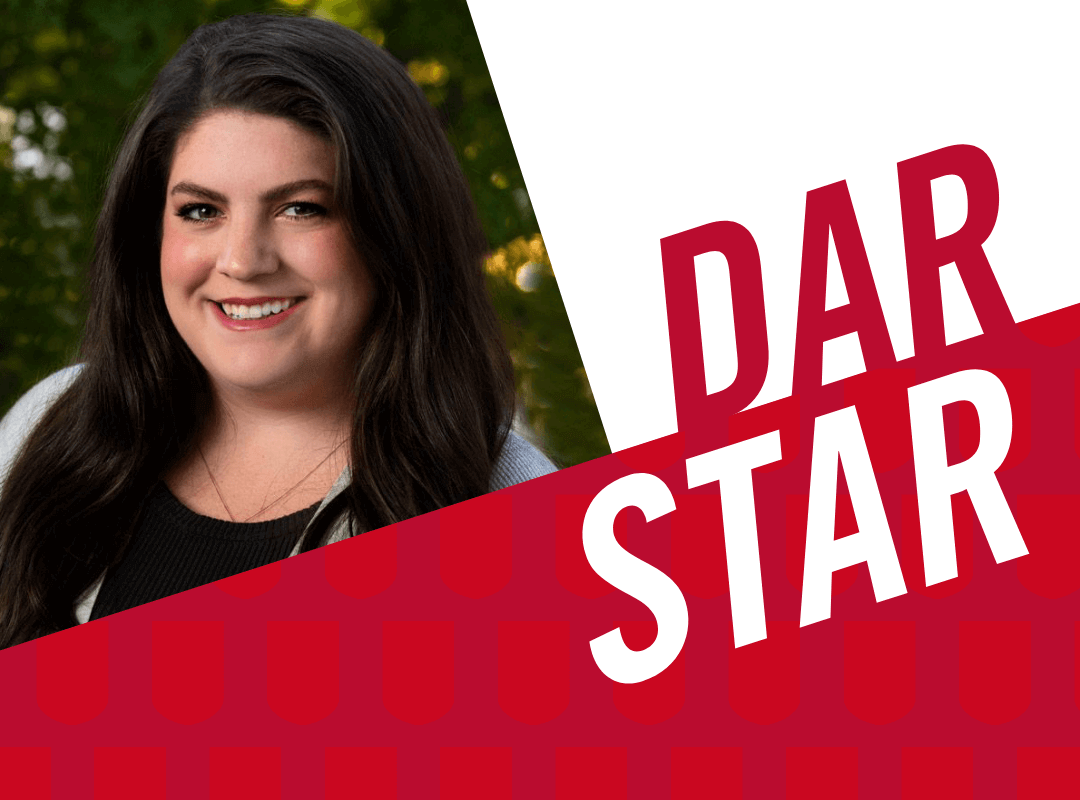 We work with absolutely incredible people—and we all have varied interests and experiences, which adds to the unique makeup of the University of Georgia. We'll be regularly spotlighting a few rock stars from around the division so that even if you don't cross paths with them in the break room or Zoom with them on a weekly basis, you can get to know colleagues who can enhance your work life and productivity.
Without further ado, please enjoy our Q&A with Katherine Skelly …
Name: Katherine Skelly
Title: Talent Management Coordinator, Talent Management
My job entails assisting in all things Talent Management! From job postings, to onboarding processes, I enjoy welcoming new DAR members to the division. My other focuses are employee engagement and retention as well as in house events and awards!
What might people not know about your job? Three Things! (1) I update the online DAR Directory! If you see something outdated, let me know! (2) I am in charge of birthday and work anniversary cards. (3) I get to bring all new DAR members their onboarding boxes.
Where can we find you?
Time in DAR: Since October 2022
Why do you love working here? I love being apart of my home state's flagship institution
No. 1 tip for someone joining DAR: I've been told the No.1 tip for a DAR newbie is to jump on football tickets ASAP!
What have you been most proud of working on? The first Coffee and Conversations and Employee Service Recognition Events
Where did you grow up? Stone Mountain, Georgia
Tell us about your family… I live in Royston, GA with my husband Michael (we just celebrated our first wedding anniversary this past December). He coaches baseball at Emmanuel College in Franklin Springs, GA.
On a typical Saturday evening, you can find me… Thrifting or in search of the perfect latte!
Where do you like to grab lunch in Athens? Viva! Argentina Cuisine has become a favorite for their empanadas
Outside of work, I'm passionate about… Cooking
Favorite podcast? My favorite podcasts lately have been Crimetown or The Daily (NY Times)
A song that really pumps me up is… Wide Open Spaces by The Chicks
Something you might not know about me is… I grew up playing the Cello and my first time on campus was for a summer orchestra camp in high school.
My dream vacation (cost and time aside) would be to visit… Without a doubt, my dream vacation would be anywhere in Italy! It has been a lifelong obsession.
We hope you learned something new about Katherine —we are lucky to have her on our DAR team! Feel free to reach out to her for all your talent management and onboarding needs!
https://www.dar.uga.edu/wp-content/uploads/KatherineSkelly_1200x800px-2023-DarStar-V1.png
800
1080
Lily
https://dar.uga.edu/wp-content/uploads/UGADAR-logo-horizontal2.png
Lily
2023-03-06 09:07:33
2023-03-06 09:07:33
March '23 DAR Star: Katherine Skelly