September '22 DAR Star: Lee Snelling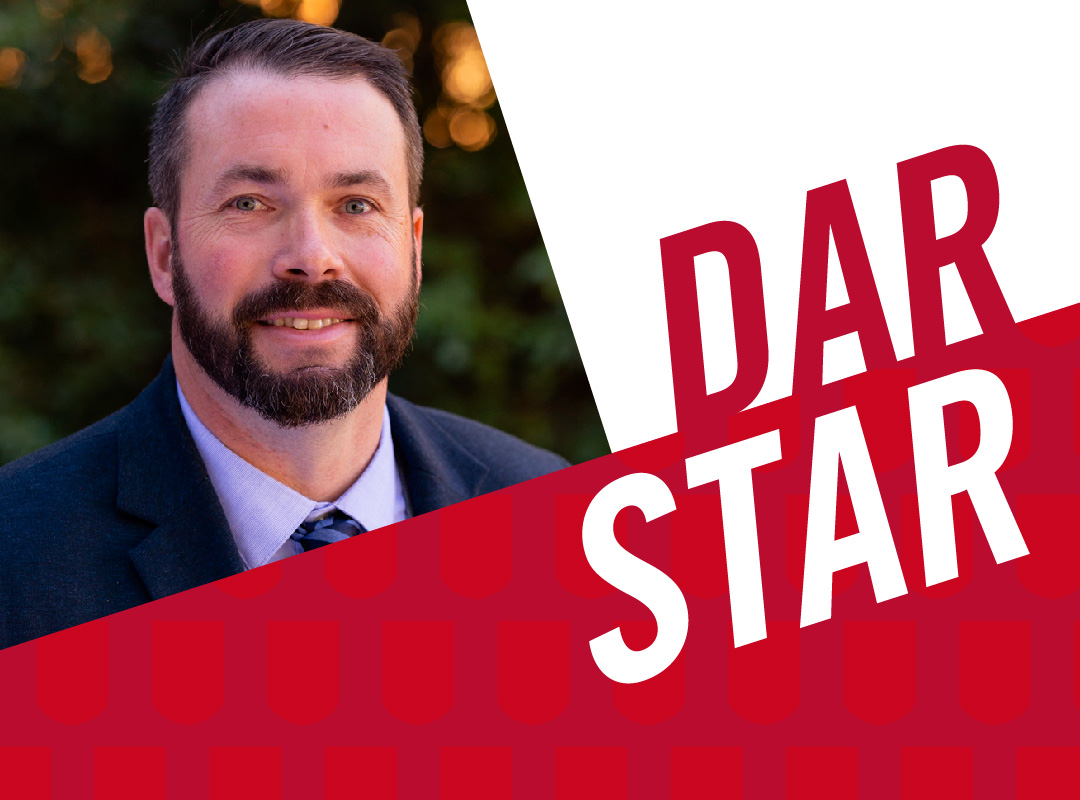 We work with absolutely incredible people—and we all have have varied interests and experiences, which adds to the unique makeup of the University of Georgia. We'll be regularly spotlighting a few rock stars from around the division so that even if you don't cross paths with them in the break room or Zoom with them on a weekly basis, you can get to know colleagues who can enhance your work life and productivity.
Without further ado, please enjoy our first Q&A with Lee Snelling …
Name: Lee A. Snelling
Title: Senior Director of Development and Alumni Relations, UGA College of Pharmacy, Office of Development and Alumni Relations
I lead the development and alumni relations efforts for UGA's College of Pharmacy. My team engages PharmDawgs in giving back to their alma mater through their time, talents and treasure.
What might people not know about your job? That leading a constituent-based development program is multi-dimensional. Although so much is focused on how much money is raised, there are many facets to the role. We are expected to be the top fundraisers among our team, but we also seek to ensure each of our team members is also set up to succeed. Because of this, I am a generalist in annual giving, stewardship, corporate/foundation relations, gift & estate planning, and major gifts. On top of that, I also ensure that my team is collaborating with the central DAR team. It can honestly be the most challenging, yet rewarding, role in DAR. Convince me otherwise!
Where can we find you?
Time in DAR: 12 years (six of which were with the Odum School of Ecology)
Why do you love working here? Easy: supporting students! I put myself through six years of school, which I funded on my own. Nearly 20 years into my higher ed career, that experience still shapes who I am. I want to help every student that has a dream of earning a degree.
No. 1 tip for someone joining DAR: Find your passion and purpose. You'll hear a lot about metrics and they serve a purpose, but finding your true purpose will guide your path. Be open to change and able to pivot accordingly. Lastly, do not think it is always about you. We do our work to fulfill the dreams of others. Remembering that will provide all the reward you need.
What have you been most proud of working on? There have been so many. I will more broadly say that it has been any project focused on providing greater access through diversity, equity and inclusion. I have learned so much along the way and gaining the DEI certificate was incredibly rewarding. Working with Dr. Vivia Hill-Silcott, Pharmacy's DEI director, has continually helped me understand how to better support students from various backgrounds. My wish is for us to be less reactive with DEI and far more proactive. It is our duty as the flagship university of Georgia.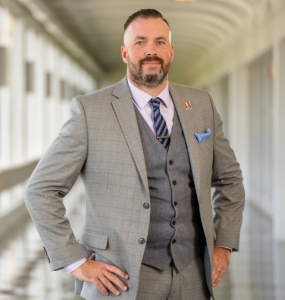 Where did you grow up? The county of Suffolk, England—one of the most beautiful places in the country. It is where my entire family still resides and we visit often.
Where do you like to grab lunch in Athens? The Royal Peasant. It is my slice of home, here in Athens. Try the bangers and mash—always washed down with a pint of Fullers. You're welcome.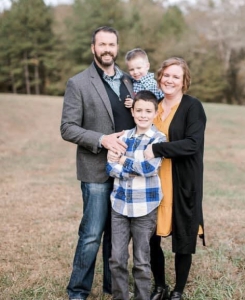 Tell us about your family. My wife Holly and I are the proud parents of two boys, Ethan (13) and Isaac (7). We also have two dogs, Otis (English springer spaniel) and Mia (Heinz 57 variety), and a cat named Toby. We have been a foster family for springer spaniels, but have become known as 'foster fails.' That means we don't just foster—we end up adopting. That's the best kind of failure in my book, though!
Describe your typical Saturday evening. With two boys, no evening is 'typical.' Our oldest enjoys late nights on the weekend with dad—this often involves an 11 p.m. trip to our favorite Waffle House.
Outside of work, what are you passionate about? The younger generation. Soccer was how this introvert found his voice. Sports are a wonderful vehicle to support kids, so I coach soccer. I also mentor in the local school system. I have built a five-year relationship with a young man by the name of Braylen. He is one of my best friends and has taught me so much about myself.
Favorite book? Good grief, just one book?! The Wind in the Willows by Kenneth Grahame. It was one of the first books I read as a child. Some years ago, I inherited an early edition that belonged to my grandmother. It is a prized possession.
What have you been watching lately? Peaky Blinders. Who doesn't love some gangster action, loosely based on historic events?
What is a song that pumps you up? Lucky Man by The Verve
What would be your dream vacation? Visiting my homeland. I've been fortunate to travel widely, but seeing my family, and home, brings me the most joy. A walk down the River Deben, a country pub, and sharing a laugh with my family.
What is something your colleagues might be surprised to know about you? I served as an extra in a film directed by Clint Eastwood.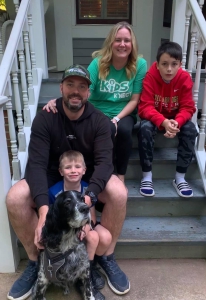 We hope you learned something new about Lee. If you see opportunities to collaborate with the College of Pharmacy, don't hesitate to reach out to him—or if you want to share a pint over a plate of bangers and mash, he's your partner in crime!
https://www.dar.uga.edu/wp-content/uploads/HeaderTemplate_1200x800px-2022-DarStar-LeeSnelling-V1.jpg
800
1080
Elizabeth Elmore
https://dar.uga.edu/wp-content/uploads/UGADAR-logo-horizontal2.png
Elizabeth Elmore
2022-09-19 15:59:01
2022-09-20 09:55:33
September '22 DAR Star: Lee Snelling