April '23 DAR Star: Adam Prescott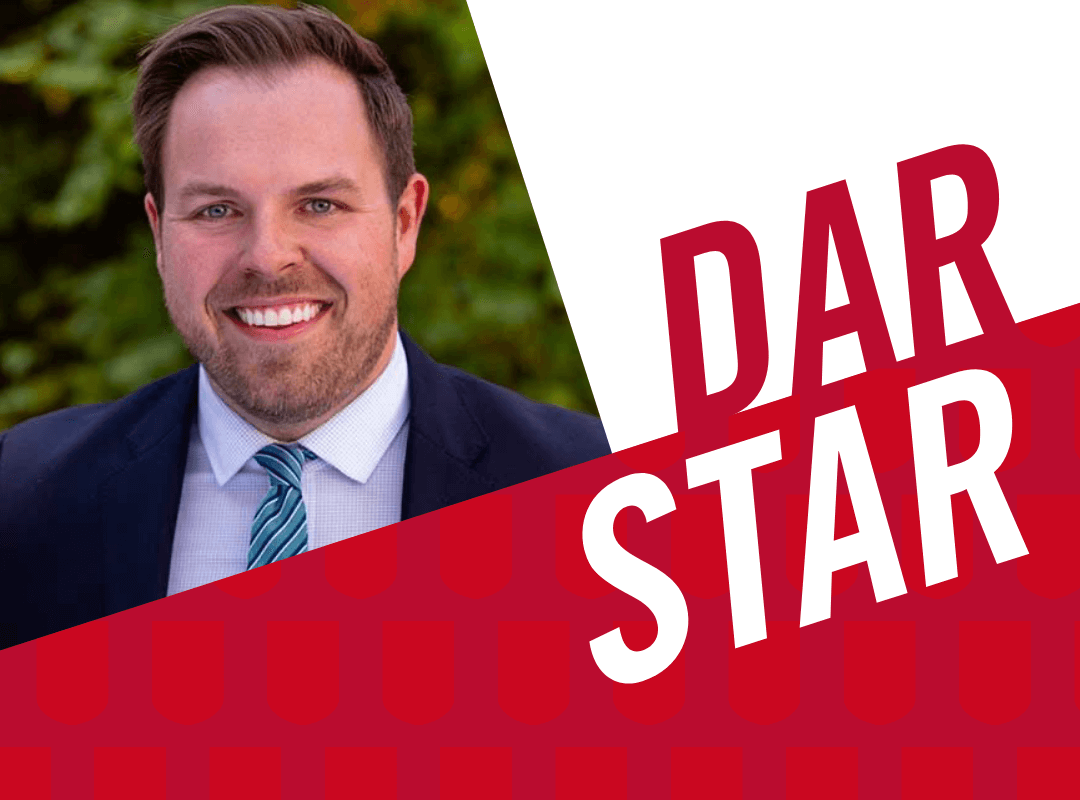 We work with absolutely incredible people—and we all have varied interests and experiences, which adds to the unique makeup of the University of Georgia. We'll be regularly spotlighting a few rock stars from around the division so that even if you don't cross paths with them in the break room or Zoom with them on a weekly basis, you can get to know colleagues who can enhance your work life and productivity.
Without further ado, please enjoy our Q&A with Adam Prescott …
Name: Adam Prescott
Title: Associate Senior Regional Director of Development, Regional Programs
I lead a team of front-line fundraisers (Development Officers) who are primarily building our donor pipeline by focusing on securing leadership annual gifts and pledges of $1,500-$24,999 while also discovering potential major gift donors. In addition, I continue my work as a regional major gift officer cultivating a small portfolio of high-level donors focused on six and seven-figure gifts.
What might people not know about your job? I think there is a misconception that a majority of a fundraiser's job is just hobnobbing at fancy dinners and expensive country clubs. However, in reality, our job consists of a vast majority of our time being spent at our desk prospecting, calling, and emailing to attempt to secure meetings (over and over again), updating GAIL, putting in detailed interactions, traveling in a car or plane across the country, and working hard to collaborate with other colleagues. The truth is, we spend very little time actually with donors and when we do see them, it is much more likely to be in an overcrowded Starbucks rather than sharing shrimp cocktails at the Ritz Carlton.
Where can we find you?
Online:

ude.agu@cserpa

On Campus: One Press Place, Room 207
At home: Watkinsville, GA
Time in DAR: Over 9 years
Why do you love working here? I am very proud of the overall work done by the University of Georgia and the opportunity to support that work.
No. 1 tip for someone joining DAR: Spend time interacting and learning from your DAR colleagues—not just the ones who do the same job as you. We have some incredibly talented professionals in our division and I learn so many things from them, often by just observing how they work.
What have you been most proud of working on? As a fundraiser: The Georgia Commitment Scholarship Program. Helping deserving students afford the opportunity to chase their dream to attend their state's flagship institution has been very rewarding. Overall career: Building out the Development Officer team and seeing their success has been my most rewarding experience as a professional.
Where did you grow up? Murray, Kentucky
Tell us about your family… I have an incredible wife named Whitney Prescott who also works in DAR serving as the Director of Career Development and Programs for the Career Center. We will be celebrating our 10th anniversary in June! We are blessed to have a 3.5-year-old daughter named Ellie True who is as wild and spunky as they come—we wouldn't have it any other way.
On a typical Saturday evening, you can find me… Watching college football when in season or on a date night in downtown Athens with my wife and a few friends.
Where do you like to grab lunch in Athens? Chipotle – you'll usually find me and Rob Carrico there.
Outside of work, I'm passionate about… My faith, family, and friends (many in DAR) all take precedence. Outside of that, I love to travel with my wife, play guitar, hike, and admire good design and architecture. I got a mountain bike for Christmas, so biking is starting to move up the ranks as well.
Favorite podcast? Since I used to travel so often, I fell in love with podcasts, especially those revolving around entrepreneurship and management. Here is a list of my favorites: How I Built This, Wisdom from the Top, Business Wars, Business Movers, Raise Podcast (Fundraising), The Development Debrief (Fundraising), Dadville, and Traverse.
Lately, I've been watching… College football and I'm getting caught up on Yellowstone. However, my favorite show on TV is Succession (HBO).
Something you might not know about me is… I play guitar and have written a few songs.
My dream vacation (cost and time aside) would be to visit… Now, this is my kind of question, and I could name a few things. Two months driving through Alaska with my wife in a campervan: we'd spend our time whale watching, climbing glaciers, finding waterfalls, hiking through mountains, white water rafting, ATVs, observing wildlife, etc.
We hope you learned something new about Adam—we are lucky to have him on our DAR team! Feel free to reach out to him for all your regional development needs.
https://www.dar.uga.edu/wp-content/uploads/AdamPrescott_1200x800px-2023-DarStar-V1.png
800
1080
Lily
https://dar.uga.edu/wp-content/uploads/UGADAR-logo-horizontal2.png
Lily
2023-04-12 15:23:47
2023-04-12 15:23:47
April '23 DAR Star: Adam Prescott