Getting to Know the 2022 Teresa Harris Guthrie Award Winner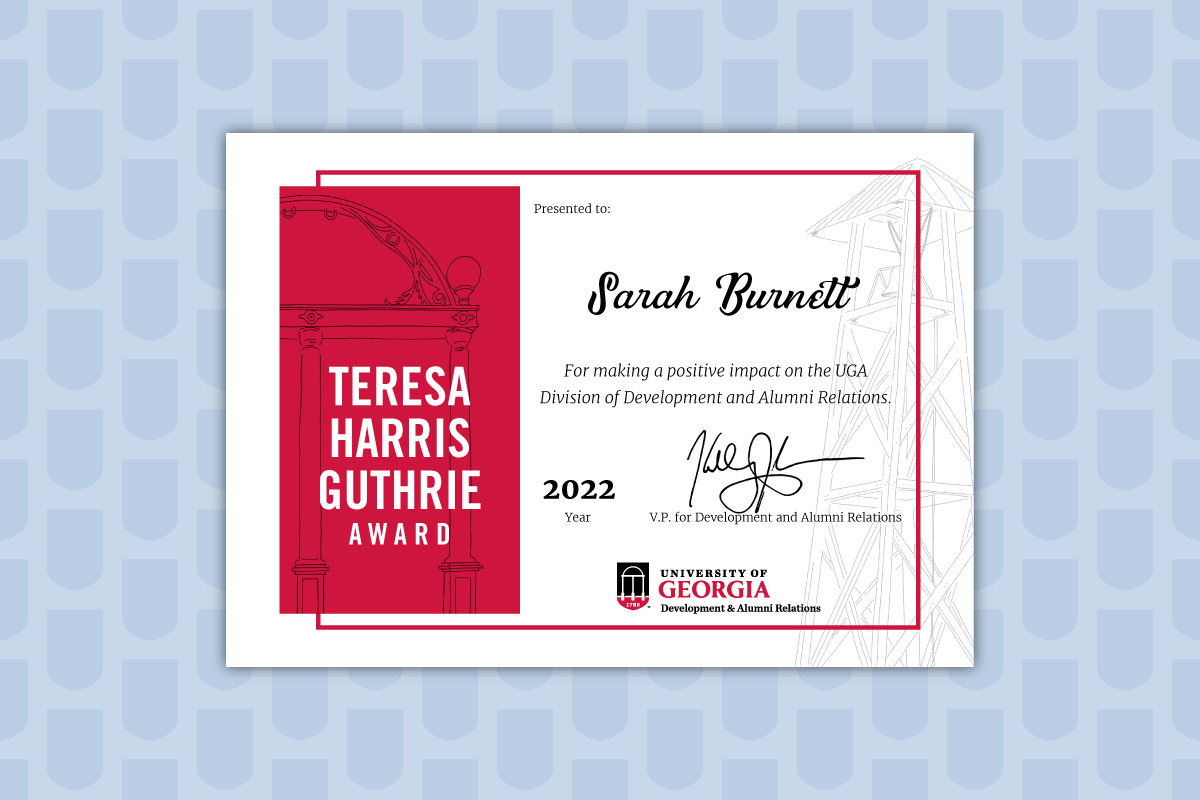 "Sarah Burnett demonstrates servant leadership as a collaborator and supporter. She does not need to be the loudest voice in the room to contribute, lead and influence others."
—from the nomination form       
Meet Sarah Burnett, an Honors College student in the Class of 2023 who is studying health promotion in UGA's College of Public Health. Sarah joined the UGA Career Center in Fall 2020 as a career development intern (CDI) during a chaotic time when we were all figuring out what remote school and remote work meant in an unexpected long-term trial. Throughout that challenging time, and even after our return to in-person work, Sarah has proven to be reliable, creative and efficient.
Along the way, Sarah's overall excellence in her role earned her recognition as a senior CDI, a role that includes helping new interns adjust to their CDI role and supporting them in their work. When the Career Center created CDI committees, she was a natural choice to co-lead the Arch Ready Data Committee, where she supports the distribution of between 200 and 250 certificates for the Arch Ready Professionalism Certificate program each semester. Sarah helps record and analyze attendance records to track students who earn the certificate and communicate with them about their progress.
Sarah has grown throughout her time as a CDI. She began with little experience in public speaking, and now she regularly completes Career Center Overview and Resume presentations across campus, and she supports employers and Career Consultant staff in their delivery of Arch Ready programs—sometimes in front of audiences as large as 100-200 participants. She also has taken on leading Career Center internal meetings and assisting with the CDI Team Management committee.
Sarah proactively helps others by seeking opportunities to mentor and teach. She works on projects with other students in the Career Center office and mentors students who attend Career Center Drop-Ins. She not only leads students in her immediate sphere, but also influences students across campus in meeting their goals. Besides being a Career Development Intern, Sarah serves as a goodwill ambassador for UGA through Arch Society. You can follow this outstanding student on LinkedIn.
---
Presented annually, the Teresa Harris Guthrie Award recognizes an outstanding student employee who has made a positive impact on the Division of Development & Alumni Relations at UGA through the demonstration of one or more DAR SIC 'Em values: Servant Leadership, Innovation and Commitment. The winner receives a framed certificate and a $500 cash prize funded by the Teresa Harris Guthrie Memorial Fund.
The division established the award in memory of former DAR employee Teresa Harris Guthrie. Her smile, outgoing personality and endless positive attitude made Teresa a joy and a comfort to be near. Her co-workers, family and friends raised money to create this award in memory of her dedication and mentorship to the students who worked with her
https://www.dar.uga.edu/wp-content/uploads/header_1200x800px-2022-blog-V1.jpg
800
1200
Alyssa Craig
https://dar.uga.edu/wp-content/uploads/UGADAR-logo-horizontal2.png
Alyssa Craig
2022-04-19 08:30:11
2022-04-19 08:30:11
Getting to Know the 2022 Teresa Harris Guthrie Award Winner